Create sub-menus for multiple commands in QuickTextPaste from Version 3.61, for Windows 11, 10, ... OS!


Content / Solution / Tips:


1.) Submenus for inserting texts create!
Please use in the menu text the slash (/) char to create Sub - Menus for a better overview of all the famous commands in QuickTextPaste! (... see Image-1) 

Please don't use the / in Menu-Text if you don't want sub-menus, yes just figured this out, not to use / in menu-text but I can still use them in Add Text! 



Info: from Ver.5  Enter the text in Edit-Field not List edit:



For example:
Replace/TAB to Space
Replace/\n to <br>\n
Replace/\r\n to <br>\r\n
Replace/some to several
Replace/and to &

See also: ► add commands eg. keyboard shortcut ► Replace function with special character support

Please use always ... the latest version of QuickTextPaste for Windows! 



(Image-1) Create sub-menus for multiple commands!

-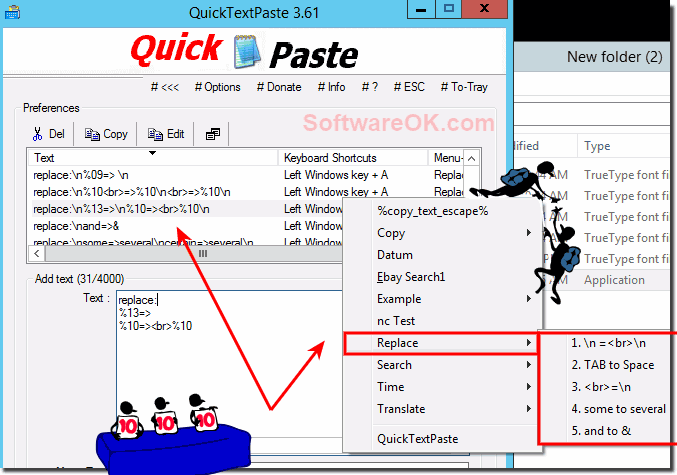 Example: Replace/and to & Commant

and and and = & & &

2.) Activate tool tips to better recognize the text!

Just activate the tooltips for menus via the options menu! 



(Image-2) Activate Tool-Tips in sub-menus for multiple text commands!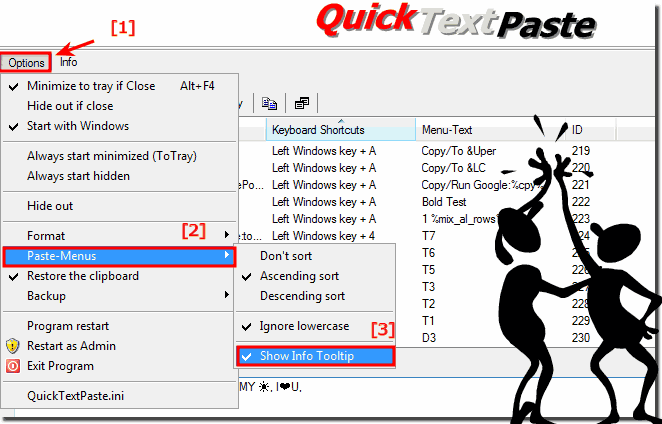 Info:

As you can see above in Windows 10 and 7 shot screenshot, it is easy to activate the tool tips. However, you can easily apply this example to earlier and older versions of Microsoft's Windows operating systems to better understand the text that you want to paste, whether you use the tool tips on a Native Windows desktop or the text  to go in the Starbucks or other coffee shops on the tablet PC, Surface Pro / Go, or even to use in on a server operating system in a security area.


FAQ 22: Updated on: 13 July 2021 09:45