If you want to open the settings for the virtual memory under Windows 11 in order to adjust it!  
1.) Settings for virtual memory on Windows 11!
1. Please start the Run-Dialog [Windows- + R]
2. and enter the command
sysdm.cpl ,3
(
... see Image-1 Point 1  to 6
) 
With more text: 
►
Adjusting the pagefile.sys in Windows 10/11 (swap file, virtual memory)?
(Image-1) Windows 11 and the Virtual Memory Settings!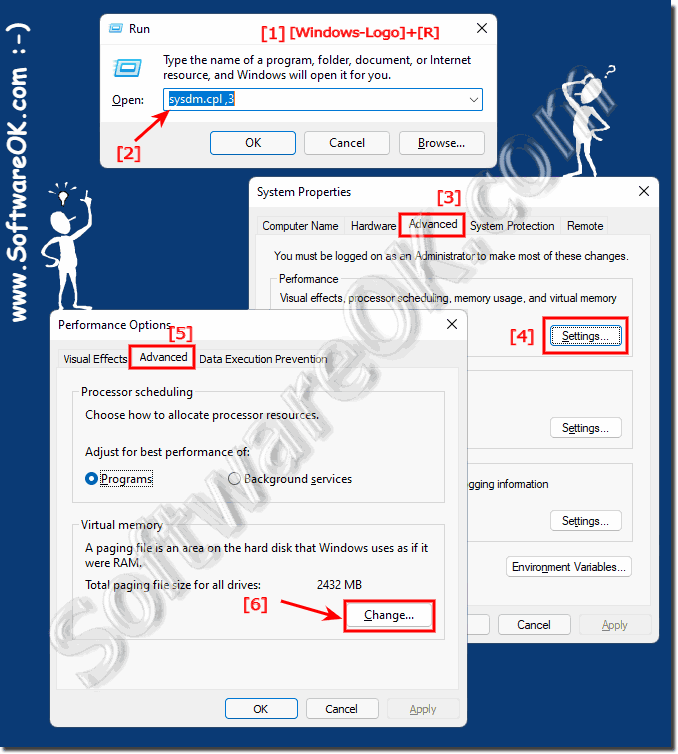 2.) About the virtual memory on MS Windows OS!
The virtual main memory is also a physical main memory, but it is not located on the memory modules that are intended for the real RAM main memory! The main memory in today's RAM memory modules works with a data throughput of more than 50 gigabytes per second if it is operated in dual channel, for example! With the i7 and Xenon processors from Intel, a triple channel (triple channel) is also possible! Virtual memory is usually located on a disk and is the same as the Windows paging file, which is referred to here as 
pagefile.sys
 !