Optional feature to turn off the screen in timed mode, but block the PC sleep mode on Windows 11, 10, ... and MS Server!

Arose at the request of a Windows 10 Tablet user for home automation (SmartHome), this would like to turn off the screen in 20 seconds, but never go to sleep, standby or so, a very rare requirement but is possible from the V 6.11 regardless of whether You can use the home automation and SmartHome, on a home Windows desktop computer, on the tablet PC, Surface Pro / Go, or even as an administrator on the server operating system.


Switching to this special requirement for home automation and SmartHome!
1. Please start
Do not Sleep
2. Switch to "Please
Sleep
" 
3. Set when the monitor should be turned off 
4. Put the computer to sleep mode 
♾ Infinity
5. and Option:
When the timer is running: Block > Standby / Hybrid-Standby / ...
 activate
PS: The request was very special, but who wants to use his tablet for home automation and SmartHome, why not Please always use 
... the latest version of DontSleep for Windows
It is not uncommon that the computer is used to provide information to devices connected to the mains! 
(Image-1) Turn off the screen in 20 seconds, but never go to sleep, for SmartHome!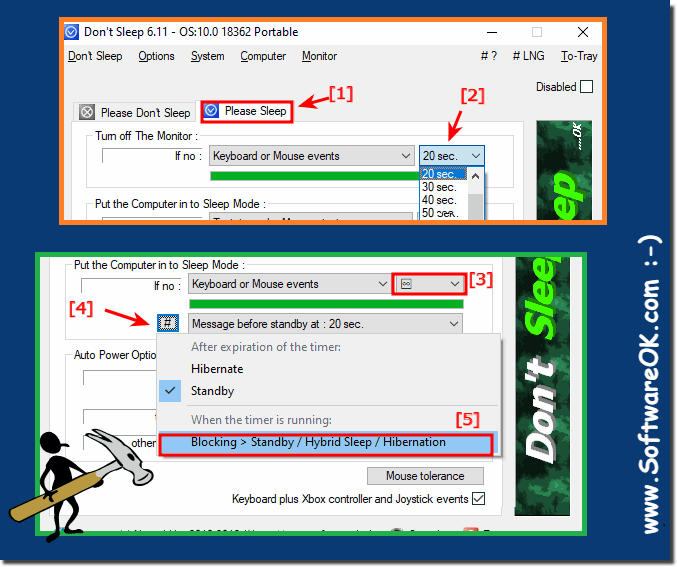 Lookup:

With intelligent home automation, your home will not only be more comfortable and safer, you will also save energy costs. In addition, smart home automation allows you to conveniently monitor and control your heating system, lighting and security technology over the Internet using your tablet or smartphone. The whole system requires good planning. For a few years, therefore, the electrical planning is becoming increasingly important for single-family homes. What was previously decided on the construction site is now planned in detail using CAD in advance. The diverse lighting technology, the interface to heating / air conditioning / ventilation, the shading system u.v.a. makes this essential.In any case, the increasing device connectivity in today's homes and buildings offers homeowners, facility managers, equipment manufacturers, and solution providers numerous opportunities. Standardized communication protocols e.g. Bluetooth provides physical connectivity and therefore serves as the basis for smart home applications.In the face of rising energy prices, the subject of energy efficiency is becoming increasingly important for home automation. The home automation equipment switches off the heating and lighting when nobody is at home. They check that the windows and doors are closed, shut down the shutters when it gets dark, and activate the alarm system as long as the occupants lock the front door.