Here is the example of how to enable the Always on top option for easier work using drag and drop on Windows 11, 10, ... etc. and MS Server OS!
Content:
1.) Activating the window Always on top option!
1. As always, start your ► 
.... file time stamp tool on MS Windows!
2. Then via: Menu ► NewFileTime ► Always on top (
... see Image-1
)
(Image-1) Always On Top for easy Drag and Drop!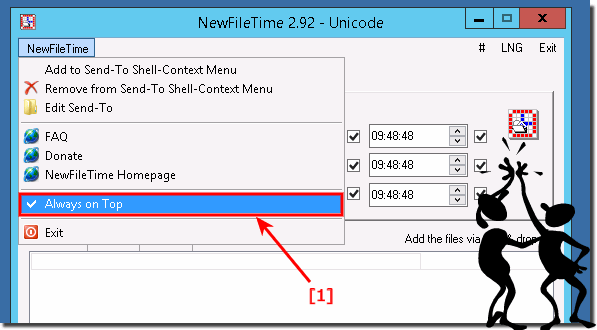 2.) Always in the foreground can be very practical under Microsoft's Windows OS!
This function is very helpful when storing files because under Microsoft Windows Desktop and Server the window is always in the foreground, so it is easier to add files, folders, documents, ... for which the file time is to be changed to the file list.
Many programs have the "always in the foreground" function, where you can easily retrofit it with the
desktop OK for MS Windows
! 
See description: ► 
Window always in the foreground under Microsoft's Windows 10, 8.1, ...!