In Windows File Explorer, the option can be changed and is permanent until you change it, or until the MS Autoupdate.
With the
Quad Explorer
you can accomplish this by creating a Q-Dir favorite, When creating Favorites all 4 directories are considered, as well as the current view, grouping and sorting, no matter if it is a Windows desktop, tablet, Surface Pro / Go, or even a server operating system is!
Starting with a favorite  setting is very popular among the Q-Dir users, so all four File Explorer lists views and other settings will be saved.



Tip: ►  
... permanently switch off the grouping
! 
Not only the view settings but also the window position and column settings can be saved here.  
1. Single Explorer window size and position
2. View order, grouping, columns, sorting, .....
3. Q-Dir window placement (Maximized, .....) 
4. Color theme
(Image-1) Favorites save settings
in Q-Dir, grouping, columns, sorting, .....!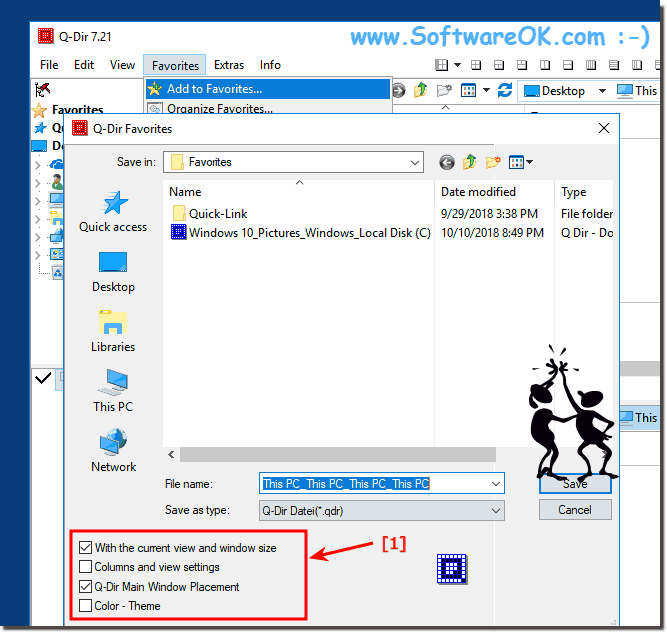 Info:
If you save the Explorer views, a new file will be created, the dialog Open new file appears, or in this case 
save new file
 dialog, where you
 can save
the  * .qdr files.
On the left side, in the navigation pane, are displayed default locations, or places that are easily accessible, such as desktop, computer, images, and so on. 

However, since you have selected Save to Desktop, Desktop Directory will be opened to save the, or the favorite with the desired folder settings.
In Windows 8, or Windows 10, a shortcut named folder will appear, so do not be irritated, you can also use it to save your favorite settings.
If necessary, you can save the desired custom favorites in the Q-Dir Favorites folder.