Yes, and it's very easy to use this little desktop icon hiding tool on all MS Windows 11 OS!


Contents:




The  desktop icons can also be automatically hidden under the latest

 Microsoft Windows 11

. It is suitable for all Windows OS from Windows 2000 to MS

Windows 11

and Microsoft's Windows Server 2019, 2016, .... you don't have to do without this simple way of hiding the desktop icons on any Windows PC!
1.) Simple example of auto-hide desktop icons on MS Windows 11!
1. Download the ►  ... Auto-Hide-Desktop-Icons for Windows 11

2. Open the zip folder / archive in Windows 11, .. Download folder

3. Place it on the desktop if necessary 
(you can use the Save tool in any folder) 

4. Start Auto-Hide-Desktop-Icons  (... see Image-1 Point 1 to 4)

►► Adjust the options!




(Image-1) Still hide the desktop icons on Windows 11!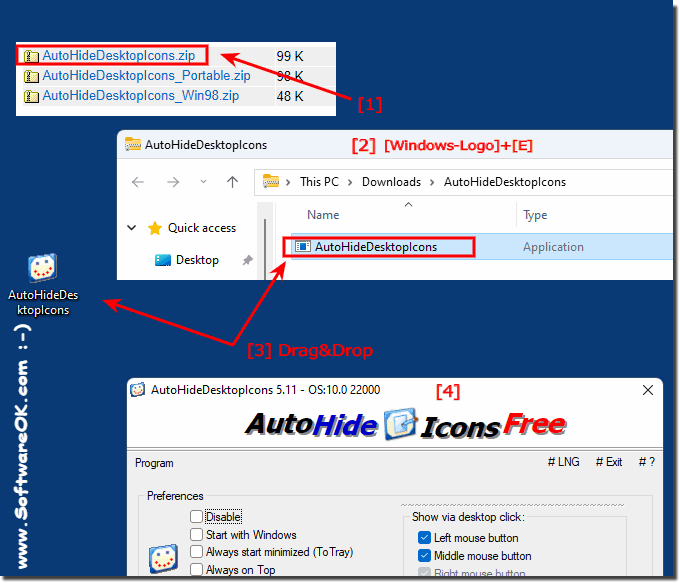 2.) Adjust options for hiding the desktop icons! 
All options in auto-hide desktop icons are quite clear 

1. You can adjust the timer when the desktop icons are hidden at any time from 1 second to 3 hours (point 2)

2. Optionally, you can automatically hide the Windows 11 taskbar leave what is sometimes more pleasant than the Windows standard function

3. You can use the More options button to adjust further options   

(... see Image-2 Point 1 to 4)

The options:
Start minimized (notification area)
Always hide the taskbar in the foreground

Desktop icons hide permanently

Show desktop icons by clicking on the desktop:
With the left mouse button
With the middle mouse button
With the right mouse button
Desktop context menu

More options:
Hide with middle mouse button.
Icons show at [Win + D]
on program start icons hide
icons when the mouse moves over the desktop show
hide taskbar when icons are hidden
change the desktop background to a color




(Image-2) Desktop Icons Hide on Windows 11 the options!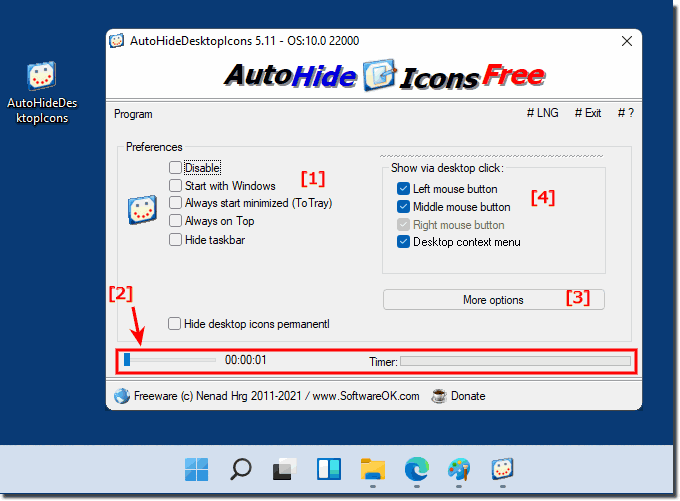 FAQ 8: Updated on: 16 September 2022 15:30