It is quite easy to solve the problems with the installation of the CPU query tool for MS Windows 11, 10, ... , whether on desktop or server operating systems!

If you have installation problems, simply use the version that does not need to be installed, because you may not have installation authorization on your Microsoft Windows OS. However, it should not prevent you from starting the CPU query tool to determine the exact CPU name and the CPU frequency!


The solution to the problem with installing the CPU query!


1. In the ► download area of ​​the CPU query tool you will find the version that does not have to be installed

2. Simply download the CpuFrequenz.zip 

3. After the download, open the download folder in MS Explorer 

4. You can then open the zip folder CpuFrequenz.zip by a double-click 

5. Drag the CpuFrequenz.exe to the desktop 

6. by double-clicking them launch the executable CpuFrequenz.exe

7. and you can see your CPU, or above the test button the exact Determine frequency

(... see Image-1 Point 1  to 4)





(Image-1) CPU frequency query without installation on MS Windows OS!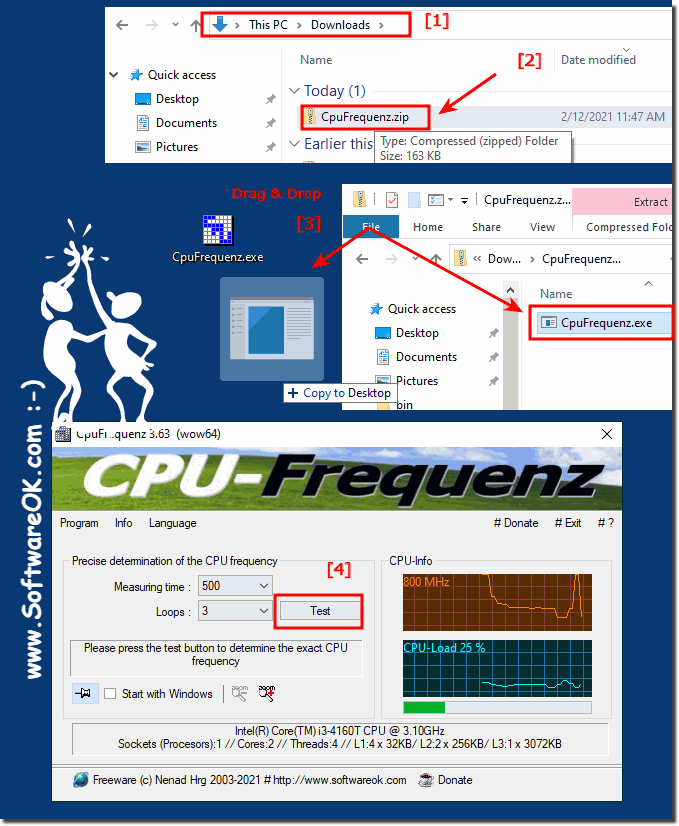 FAQ 4: Updated on: 25 July 2021 09:34