New option that is
confirmed when deleting "Desktop Icons Layouts"

simply activate before deleting!



A request from a cautious user found my hearing that there was no question when deleting the desktop icon layouts, so far no request within more than 15 years of desktop OK.

This delete confirmation option is available from DesktopOK 7.27, but must be activated, regardless of whether you save the desktop icon layouts on Windows 11, 10, ... etc.  or unintentionally delete the valuable desktop icon positions on Microsoft's Windows servers!





Option that confirmed when deleting "Desktop Icons Layouts" for all Windows OS!




1. Start DesktopOK as always

2. Go to the menu item "Options"

3. activate "Always confirm deletion"

(... see Image-1 Point 1 to 5)



Info:

If you accidentally delete a "Desktop Icon Layout", the message comes up with the question

"Are you sure?".

 If you now answer the question with

"Yes"

, the "Desktop Icon Layout" is deleted and if the "Desktop Icon Layout" was a slip, you can

 confirm

the deletion of the "Desktop Icon Layout" with "No" or "Cancel". Now the desktop icon layout is preserved and you can continue to use it to restore the desktop icons on all Windows Desktop OS!



(Image-1) If delete the desktop icon layouts activate the confirm deletion!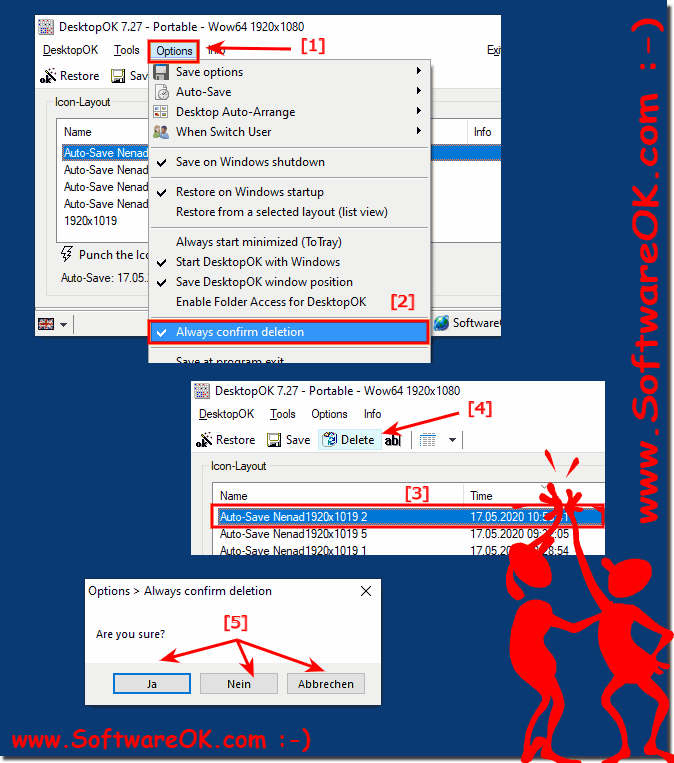 Info:
As you can see, an important precaution to not lose valuable "desktop icon layouts", which a
Windows user
noticed immediately when the desktop icon layouts were first deleted.
In any case, the option ensures that valuable desktop icon settings are not lost.
This option can be activated and deactivated at any time and please don't forget activate desktop icons.



FAQ 38: Updated on: 28 August 2023 08:28