The hard disk format can be assumed to have two meanings, that is the internal structure, as well as the external format of the hard disk!  


Content:




1.) The hard disk format as the construction of the hard disk!
There are different types of hard disks, from SSD hard disks there have been even more, but there are fixed hard disk formats and connection standards!

The classic hard drive formats!

The hard disk format is 3.5 "and 2.5"  , these refer to the width of the hard disk with 6.4 cm, or 2.5 "is mostly installed in notebooks, laptops and small MINI PCs . In normal computer cases, the 8.9 cm or 3.5 inches are used. However, these are more and more used as a second hard drive for data storage, because the SSD almost completely displaces them!   

The new hard drive formats!



The space-saving 

M.2 Type 2242

form factor and 

M.2-2280 SSD

 enable a new level of performance in a compact form factor for hard drives! With product dimensions of only 0.3 x 2.18 x 8.00 cm and a weight of only 20 grams!

(Image-1) Hard disk formats!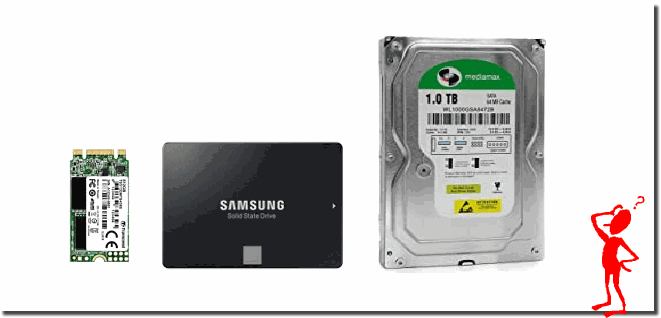 2.) Format of the hard drive in terms of formatting!

Hard disk formatting is also called hard disk format, there are a lot of formats, but still quite manageable!

NTFS


NTFS (NT File System; sometimes New Technology File System) is the file system that the Windows NT operating system uses to store and retrieve files on a hard drive. NTFS offers a number of improvements over FAT and HPFS in terms of performance, expand ability, and security.

HPFS 

HPFS (High Performance File System) is the file system introduced with IBM OS / 2 version 1.2.

FAT and FAT32

In contrast to FAT, FAT 32 also supports partitions that are larger than 2 GB. Under Windows NT it is 4 GB. FAT 32 has smaller cluster sizes than FAT. This means that less physical space per file is used on the hard disk.

XFS

With a maximum file size of 8 exbibytes and a file system size of 16 exbibytes, it is very popular under Linux operating systems where it is mostly used

exFAT works

well with all modern versions of Windows (starting with XP) and Mac OS. To work with Linux you need to install additional software. This file system supports many more devices than NTFS, but some (mostly older versions) can still only work with FAT32. 

Other formats:  ... de.wikipedia.org .... List_of_Fileisystems 



FAQ 197: Updated on: 26 September 2021 14:27