The abbreviation GUI stands for the graphical user interface, and is used on all MS Windows, Linux, Android, MAC, iPhone, Smartphone, ... etc. used!



Content:

1.) What is GUI?
A GUI includes icons, cursors and buttons, these graphically represented elements are sometimes provided with effects and sounds, transparency, drop shadows ... . Using these objects, a user can use the computer without having to use or know commands from the console.


The best known of the Graphical User Interface is the Windows Desktop, which is called Start on Android!

►► How can I change the wallpaper on my Android phone?
►► Windows 10 / 11 desktop icons are so big, why, how to change that?
2.) What are the elements of a GUI?
To make a graphical user interface as user-friendly as possible, there are various elements and objects that the user uses to interact with the operating system itself or with the software, programs, applications, ... to interact.

Also the 3D games can be seen as a kind of 3D graphical user interface, much more is not here, because the actual events take place here only in bits and bytes. We are only fooled on the screen that something is happening!
3.) How does a GUI work?
A graphical user interface uses windows, icons, menus, selection boxes, list items to execute commands or display data. A GUI is controlled with a mouse, keyboard!
For example, when you start / open a program, the mouse pointer is moved to the icon of the program and started by a double click.
►►
How do I double-click?
►► Force the processes and programs to terminate?

A graphical user interface is considered more user-friendly than a text-based command-line interface like the DOS used to be, or the power shell of MS-Windows now, or similar operating systems.

The Windows Desktop itself is as I said a graphical user interface also under MS Windows 11
(Fig.1) Desktop the
Graphical User Interface on Microsoft's Windows 11!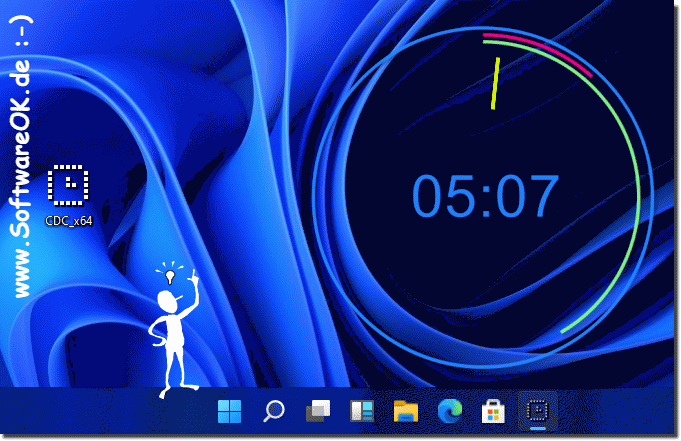 FAQ 270: Updated on: 20 June 2022 04:34