Test important Windows Hotkey is it not occupied or in use, is possible test it from Version 3.88 in Quick Text Paste for Windows 11, 10, ...!


Please Open the QuickTextPaste Window and select the Hot-Key ergo Keyboard-Shortcut.

Test the Windows hotkey ergo send this keyboard shortcut to the system. To see if it is important for you, if nothing happens, it is not occupied. (... see Image-1)

But you can choose another Hotkey if necessary, or ► Create sub-menus for multiple commands! 
It is also true that many keys are meaninglessly occupied by the system, which one never uses anyway.
Or temporally ► ... Disable Quick Text Paste via Task-Bar Tray Menu!

Yourself can also test the keyboard shortcut, when pressing this keyboard shortcut before registering them in QuckTextPaste! 

I am open for suggestions and for improvement in the case of windows hot keys!

See also: ► Hot Key to paste signature images from image path! ► Date Time Format in QuickTextPaste!




(Image-1) Important Windows Hot-Key not occupied or in use!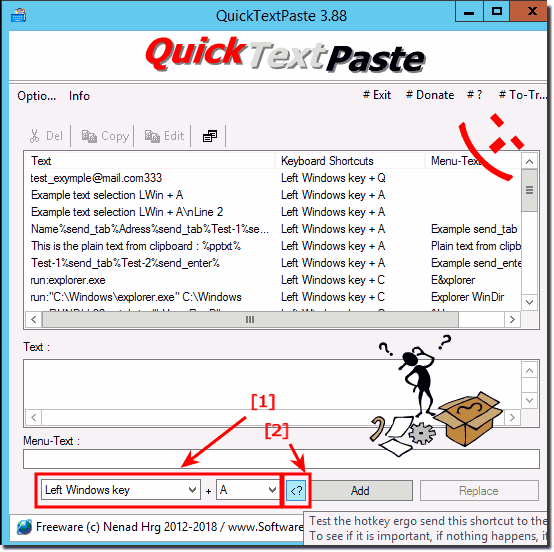 When a key is pressed, the system looks for a match against all hot keys. Upon finding a match, the system posts the WM_HOTKEY message to the message queue of the window with which the hot key is associated. If the hot key is not associated with a window, then the WM_HOTKEY message is posted to the thread associated with the hot key.  More about RegisterHotKey function





FAQ 27: Updated on: 13 July 2021 09:44