There are simple,
legal ways to download Windows 10

from the official Microsoft site in the desired edition as an ISO image.


To make it easier for users to upgrade to Windows 10, Microsoft has released two applications! Get Windows 10 and the Media Creation Tool. The first tool is for updating only, while the second tool, in addition to upgrading to Windows 10, also provides the ability to create installation media on a USB drive and DVD-ROM, or simply to download an ISO file.



If you are using Windows 7 / 8.1 and are in possession of the ISO file, you can use also this manual!

This is also  a good way If you want to create a bootable USB drive for a fresh installation, you do not need the Windows 10 ISO file to Boot your System. 

►  

Download all versions of Windows 10 with the Windows MediaCreationTool

! 

Of course, this solution is also suitable if you are already working under Windows 10 and just want to create a security installation DVD, for example, to be able to repair Windows 10 in an emergency. 

►  

Troubleshooting, Repair, or Restore Windows 8 / 8.1 / 10

!

Windows 10 x64 or x32 architecture!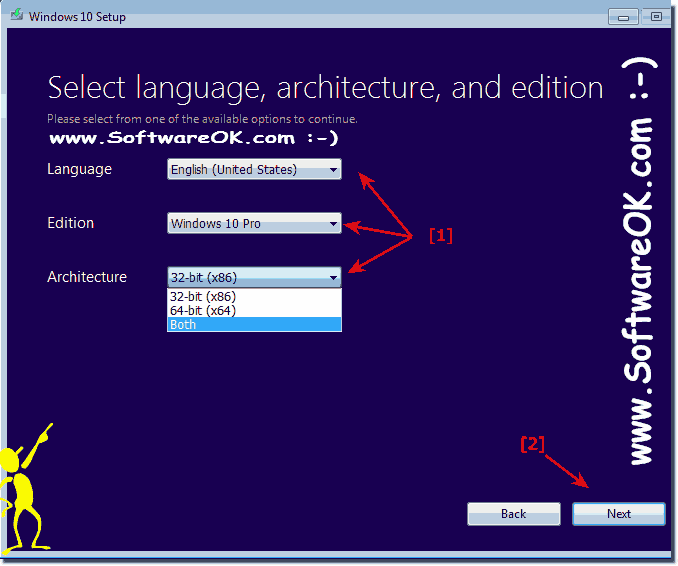 In spite of the fact that Windows 10 has its own files that you can use to automatically reinstall the system on your computer, or even repair it, see Reset or automatically reinstall Windows 10, in some cases you will need Possibly only an original ISO image with Windows 10 for writing to a hard drive and a USB flash drive, for installation in a virtual machine and for similar tasks.