Better, here is an example to enable the simple calendar function in the Windows 11, 10, ... Desktop Info area (TO-TRAY) in the taskbar!
Main menu ► Tools ► Tray functions ► Calendar 
Please use 
... always the latest version of DesktopOK
!    
See also:
► 
... Can I save the desktop icons layout on Windows 10
?
► 
... Difference between Shut-Down Save and Auto Shut-Down Save
!
► 
... Multi Touch Test for Windows
!
On user request: 
... CalendarOK - a alternative to the standard Windows Desktop Calendar! 
Having a calendar is very convenient on the Windows desktop. For example, you can quickly jump to the desired month or date and view it from the page. There you can enjoy the first day of the week, desktop calendar will be an excellent help in the work and in everyday life. It is convenient to use, does not interfere with other programs, and always stays at hand.
(Image-1) Windows Calendar in the to-tray area!!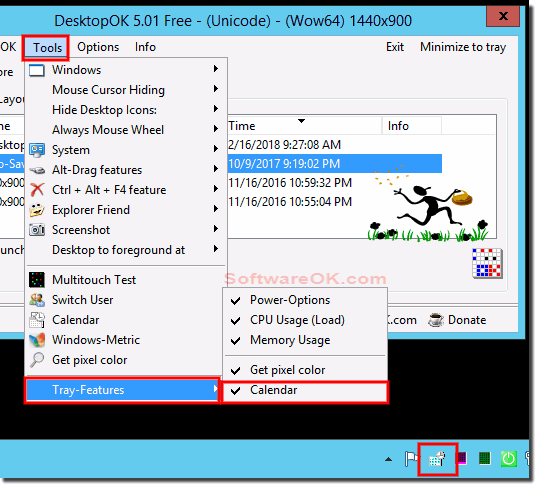 Who likes to read:
It is very useful to be able to start a small calendar directly via a shortcut on the desktop. The solution or instruction is not only written for Windows 10, if the example pictures were taken with the small calendar under Windows 10. You can use this example as a solution for a small calendar via a shortcut on the desktop easily and without hesitation also on older versions of Microsoft's Windows operating systems, or use or use the small TO TRAY calendar on the desktop or taskbar also unimportant, if you have the calendar at one Windows desktop computer at home or in the office, mobile on the tablet PC, Surface Pro / Go, or even as an administrator deploy in a server room at the server operating system.