By default, Windows 11, 10, ... etc. opens the programs in a so-called "normal window size", so the window is adapted to the dimensions of the screen!


However, many Microsoft Windows users would like to without resizing the window by clicking the Enlarge (Maximize) icon in the top right corner! 

The maximize icon in the corner of the window is one action among many that you don't want to repeat every time, especially when you start a program that you enjoy using maximized over and over again. 

Here are simple steps to force a program to start in maximized mode on Windows. 

Contents:


 
1.) Always open Windows programs and apps maximized!
For example, you want the new calculator from Windows 10 on the desktop, you can start every program maximized via a desktop shortcut. 
1. As always, create  a shortcut to the program
2. Change the settings to Maximized
(
... see Image-1 Point 1 to 7
)
(Image-1) Always open Windows programs maximized, with example!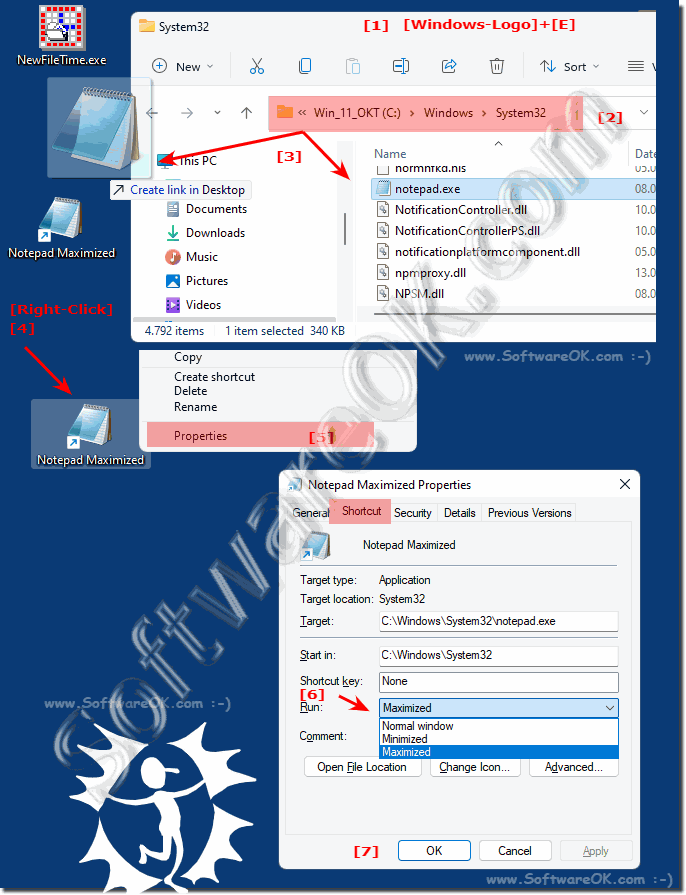 2.) Start Windows 10 apps in full screen?
In Windows 10, apps start automatically in windowed mode. If you want to use them directly in full screen, you have to change the system mode. 

If you switch to the so-called tablet mode, all your Windows apps will automatically start in full-screen mode.
You can use the buttons in the window bar to switch back to window mode.

You can activate the new mode in different ways:





3.) What should be considered when opening always maximized?
Not all programs or APPs adhere to the start options, so it can happen that the maximized or full screen start of the programs and APPs does not work!

By default, Windows opens its programs in a Normal window size, which means the dimensions don't fill the entire screen. While users can easily maximize the size of the window by clicking the middle Maximize Windows icon in the top-right corner, many don't need to repeat the action every time they start a program. Follow the steps in both sections to force Windows to open a program in maximized mode.











FAQ 119: Updated on: 1 September 2022 12:05