Easy see the duration ergo the length of video files of a folder in the Microsoft's Windows 11 and 10 system file explorer!
Don't use 
alternative Explorer solution that can display this in a column
 use ms explorer if You have a few small video files in a windows folder, and I thought if you click on properties of the folder, I would specify the total duration of all video clips. This is not the case. What is the easiest way to calculate the total time of many different clips in a folder? In the same folder I also have some .srt files.
The simple solution in File Explorer to total video length in folder on Windows 11 and 10!
1. Start the file explorer
2. Navigate / open the respective folder 
3. use the F3 key to focus the search field
4. Enter "extension:*.mp3"
5. Select all files (shortcut Ctrl + A) 
6 Open the properties (shortcut Alt + Enter) or right mouse click
And you can see the total playing time of audio mp3, flack, ... video mp4, mkv, ... ! 
You do not have to search for 
alternative Explorer solution that can display this in a column. 
With a few simple steps you can record / see the total length of the music or video files quite quickly in the
standard file explorer under Windows 11 / 10
. 
(Image-1) See total folder duration of audio files and video in explorer on Windows!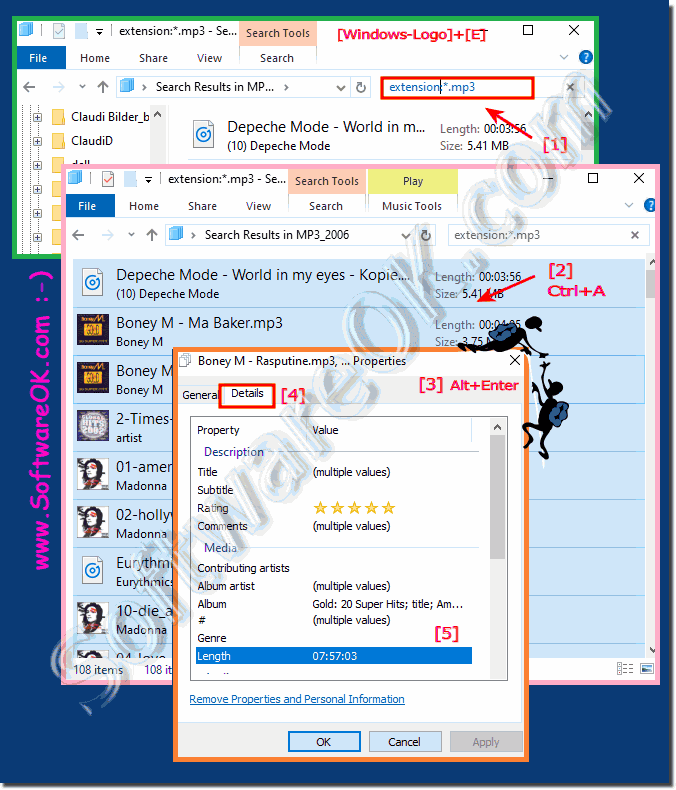 Info:
As long as Windows can read video metadata, right-clicking on it and opening details will actually show the total length.
Man can also read a combination of .MP4 and .WMV and it works too.
For Windows to properly read video metadata, Windows Media Player and its codecs may need to be installed.
Whether or not you can see thumbnails in Windows Explorer should give you a hint.
Otherwise, you can use a media application that supports video and the total time in playlists.