It is quite helpful to see the
overall time / length of the media mp3, audio, video files in an Explorer column

under Windows!


The solution is in Quad Explorer Q-Dir from Ver. 7.88 and was created at the request of Windows Explorer users on Windows 10, the elegant solution of the total length of the playing time was a many user request but is also understandable if you have many audiobook folders with mp3 chapters and these can read in the file bar What is the total playing time (total playing time of the folder) of this audiobook?


1.) Total playing time, total duration, total audio time from the folder, however!
1. Start
file explorer Q-Dir
2. And activate the column length
3. Hold down the Ctrl key

4. and briefly  click on the "Length" column with the left mouse button
5. Without detours, the total playing time of a folder is recorded and displayed  
This option can be very time-consuming to deactivate repeat 
Ctrl + left mouse click
. It is only valid for the tab in which it was activated!
(Image-1) Total length of the media in an Explorer column under Windows 10, 8.1!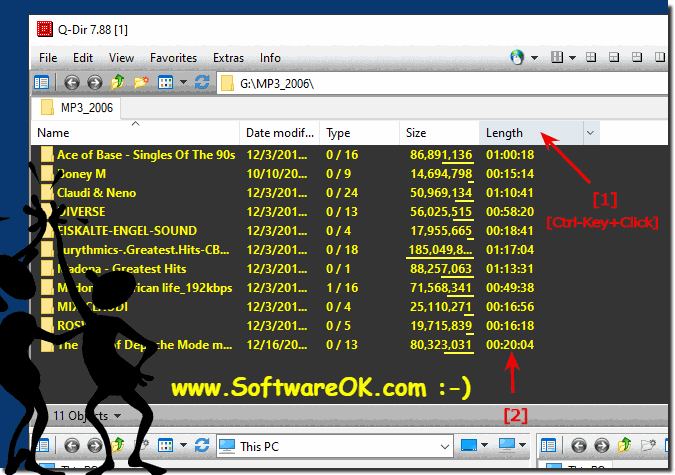 2.) What should I consider in this function and what else is coming?
Currently I'm working on more columns. Gambling for suggestions I'm open, is so to speak a functioning beta solution to get an overview of the total length of the audio and video, which also works with current Windows in a roundabout way but not so convenient!
This is currently valid for the current Q-Dir session because I want to test it a while and make sure file management does not suffer for any reason.  



3.) What about the duration column on Windows 10?

I can not say for sure, but I believe that there are two reasons.
First, MS had many problems with the duration column in XP.
The problem is that the duration is actually part of the metadata in these files.
This means that you can enter any value for the duration.
The other problem is more general.
For many formats, the duration field is eliminated because the translation is difficult.
Many languages ​​do not have their own word, which means "length of time".
They only use "length", which caused great confusion for these users!